This blog is participating in the RootsMagic Treasure Hunt at RootsTech this week. They'll be giving away an iPad 2. For further details, read the announcement below. I have posted my clue/magic word somewhere on this Blog. It's not on this first page, because I didn't want to make it that easy. Good luck!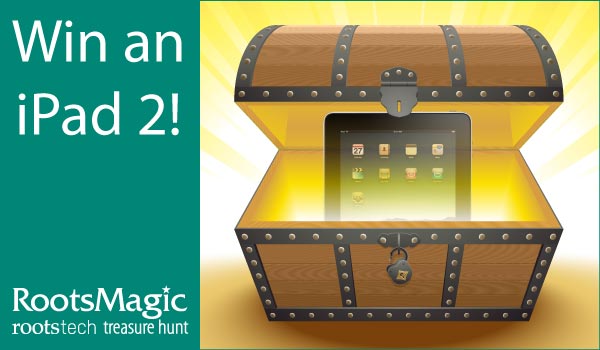 It's been a tremendous last few months here at RootsMagic. We've been busy with the new releases of Personal Historian 2 and RootsMagic 5. We're also excited to participate in one of the largest genealogy events in North America- RootsTech!
We want to celebrate these momentous events with you, our loyal users! And what better way to celebrate than with a treasure hunt where you could win one of many prizes including an iPad 2!
Online Treasure Hunt
We've partnered with 15 of the best and brightest genealogy bloggers who will be reporting at the RootsTech conference. Each blogger will place one of 15 clue words on their website
From Thursday, February 2 through Wednesday, February 8, 2012, visit http://www.rootsmagic.com/treasure for a complete list of the blogs where the 15 clue words can be found. Visit each blog, collect all 15 clue words, and you could win software, prizes, or an iPad 2!
Enter at RootsTech or at Home
Once you've collected the clues there are two ways to enter. The first is at the RootsTech conference itself. Pick up an entry card at the RootsMagic booth(#224) in the Exhibit Hall. Write the clue words on the back of the card and return it to the RootsMagic booth in the Exhibit Hall by Saturday, February 4 at 1:20 pm. At that time, we will hold the prize drawings. You must be present to win.
We didn't want those who aren't able to attend RootsTech in person to feel left out so we're holding a second drawing and giving away more prizes including asecond iPad 2. To enter this drawing, visit http://www.rootsmagic.com/treasure anytime between Thursday, February 2 and midnight MST on Wednesday, February 8, 2012. Fill out the online form to be entered into the second drawing. You may enter both drawings but one entry per person, per drawing. Winners will be picked at random and notified via e-mail by Friday, February 10, 2012.
Remember, the treasure hunt doesn't begin until this Thursday. Good luck!
Disclosure: I am NOT an employee of RootsMagic and am not receiving any monetary or other compensation by participating in this event. This blog assumes no liability for the outcome of the contest.
http://theaccidentalgenealogist.blogspot.com/atom.xml